Las Vegas is known worldwide as the city of sin, for its casinos and its overwhelming nightlife. But that is only one of its many faces. It can also be an experience of contact with nature and a great adventure for children.
Yes! You heard right! Children! It may sound strange to you, but enjoying Las Vegas as a family is more than possible. With endless activities for the most spoiled of the house. 
Do you have questions in mind like; is Vegas suitable for families?

How much should I budget for a trip to Las Vegas with kids?

OR which restaurant and hotel I should choose?
From indoor amusement parks to imposing and fun roller coasters, we must not forget to visit Vegas themed shops or its amazing shark aquarium.
The little ones are the protagonists of this article.
What do We love in Las Vegas as a family?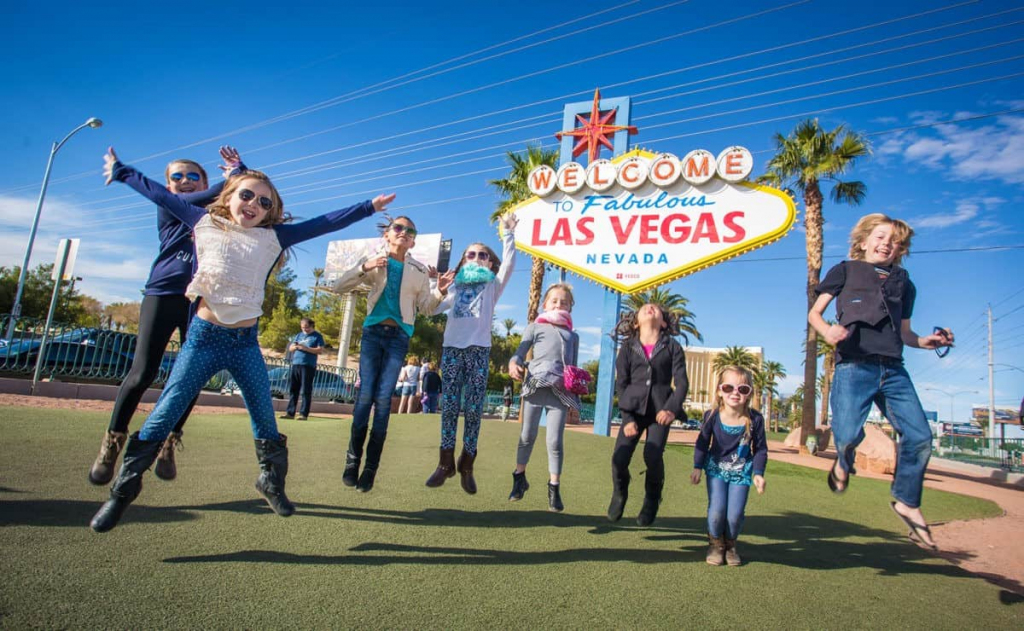 While Las Vegas may not be the ideal family destination, it has a lot to offer the family on a vacation. The options are endless for children in Las Vegas and the opportunity to entertain your children with quality shows is also present.
Your kids will love the entertainment in Las Vegas, from roller coasters and arcades to pools that include lazy rivers and real waves. The real entertainment, however, is in the shows.
If your kids or teens need entertainment, there are many attractions and activities in Las Vegas.
Best Family Friendly Shows in Las Vegas: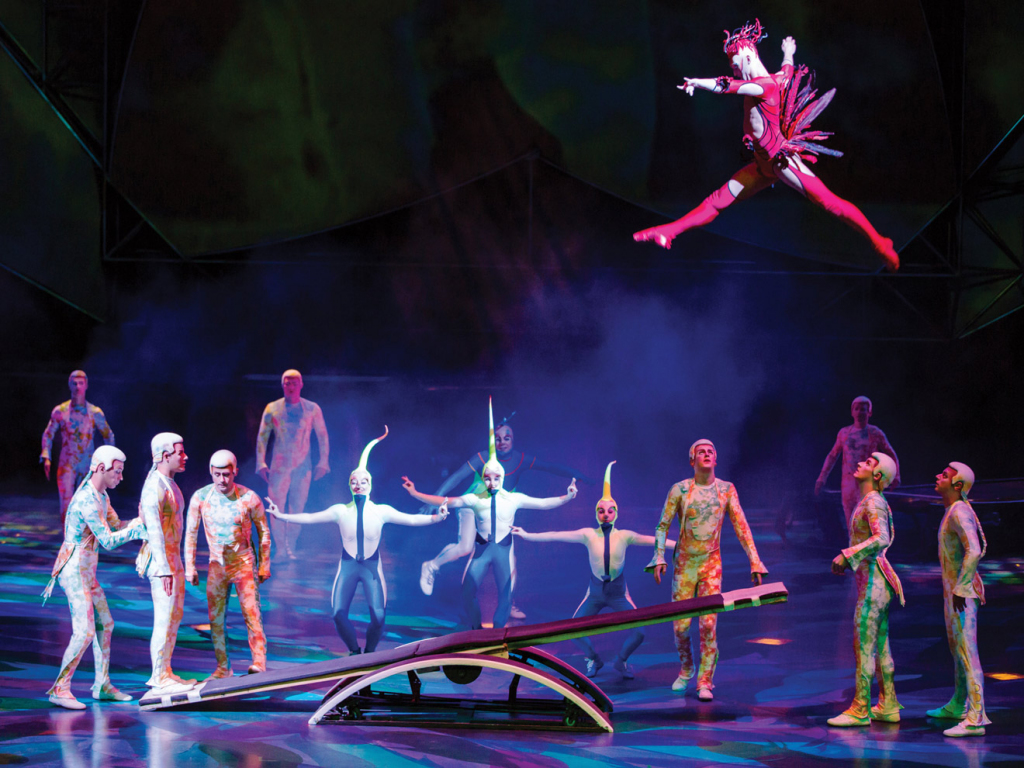 The Blue Man Group – This is a high-energy show that the whole family can take part in. Feel the music and stimulate your senses. Your children will participate throughout this show.
Mac King – Comedy, magic, and a family performer who delivers every afternoon on the Las Vegas Strip. Easily one of the best shows in Las Vegas and it is very affordable.
Jeff Civillico – Juggles, jokes and entertains. Another super affordable afternoon show that will have your kids laughing and ready to join a circus.
Mystere at Treasure Island Las Vegas – Cirque Du Soliel is for everyone, but Mystere is simply the best. Present your kids to the best show in Las Vegas and they'll have fun.
Bellagio Fountains – The best free show in Las Vegas is within walking distance of most hotels on the Las Vegas Strip. Stand in front of the Bellagio Hotel and the kids will enjoy the dancing fountains. If you really want them to have fun, wait until dark, take them to the top of the Eiffel Tower in Paris Las Vegas and watch the show from above. Kids will love that.
Fremont Street Experience, Downtown Las Vegas – The plan is simple. Go to Fremont Street downtown. Find a place to see the light show for free. Buy them some fried Twinkies and some fried Oreos and their night is prepared for very little money out of pocket.
More Vegas Show Options: Many Vegas shows work for kids, but it really depends on how much you want your kids to be exposed to.
What are the kid-friendly restaurants to eat in Las Vegas?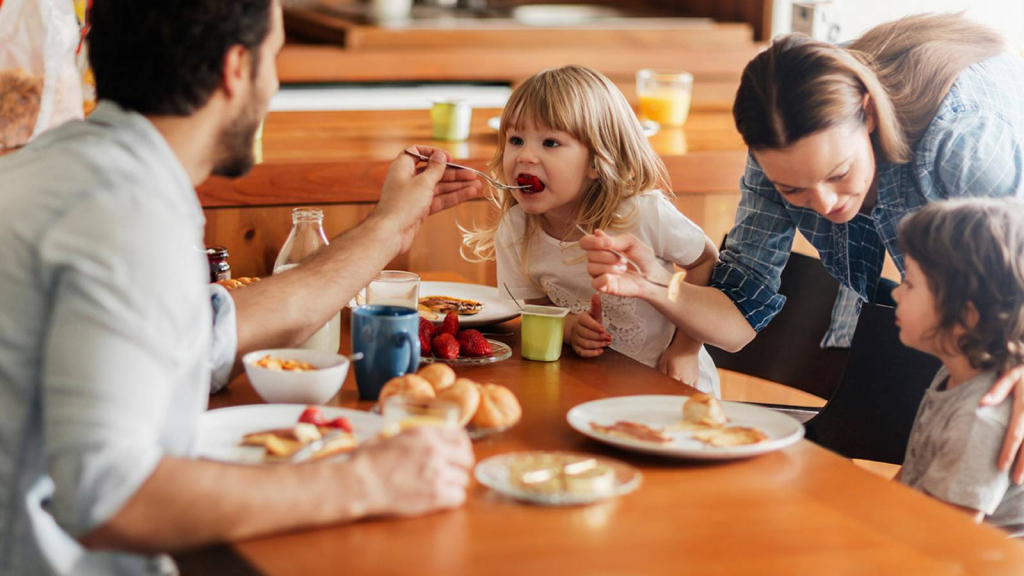 Looking for a restaurant to go to lunch or to eat with the children?
Here, we show you the most incredible restaurants with the best views of Las Vegas; they will surely leave you speechless!
Top of the World at the Stratosphere
From the highest point of Las Vegas on the 106th floor of the Stratosphere Tower, you can satisfy your appetite in one of the best restaurants in the city with incredible views, yes, not suitable for people with vertigo!
Go up the elevator until you reach 250 meters above the Strip, from where you can see the mountains, the valley and the strip thanks to its 360º panoramic views, the restaurant is also revolving. The Top of the World is not only worth a visit for its views, as the food and service is worthy of a good gourmet.
In the menu, you will find meat, seafood, pasta among other succulent dishes. Also, if you reserve a table, you will save $ 15 going up to the tower.
The average price of $ 100 per person.  Make your reservation! 
Lake Bellagio Family Friendly Restaurants – Vegas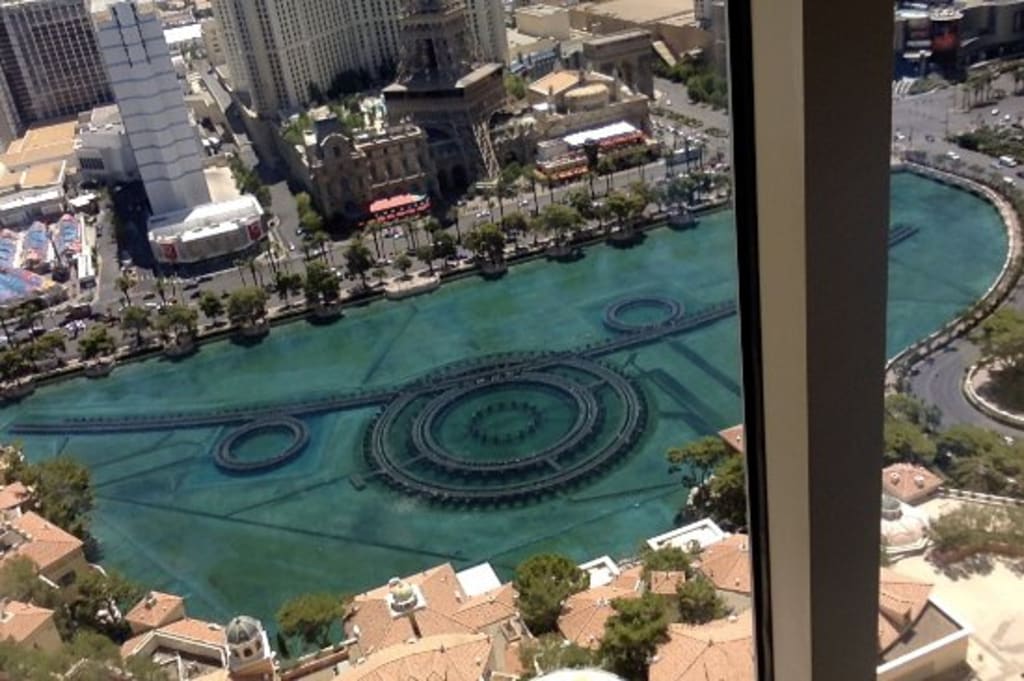 Opened in April 2015 by Spanish chef and Michelin star Julian Serrano at the Bellagio Casino. You can taste wonderful dishes with the unsurpassed company of the Bellagio fountains, if you also want to hear the music that accompanies the fountains, you can reserve a table on the terrace, where you will enjoy a romantic evening. And the views are not wasted, in addition to the fountains you will have the beautiful Eiffel Tower in the background, this can only happen in Las Vegas.
The specialty is Italian food, where the pastas and pizzas are delicious. They have brunch, lunch and dinner service.
The average price of $ 30 per person. 
Alizé in Palms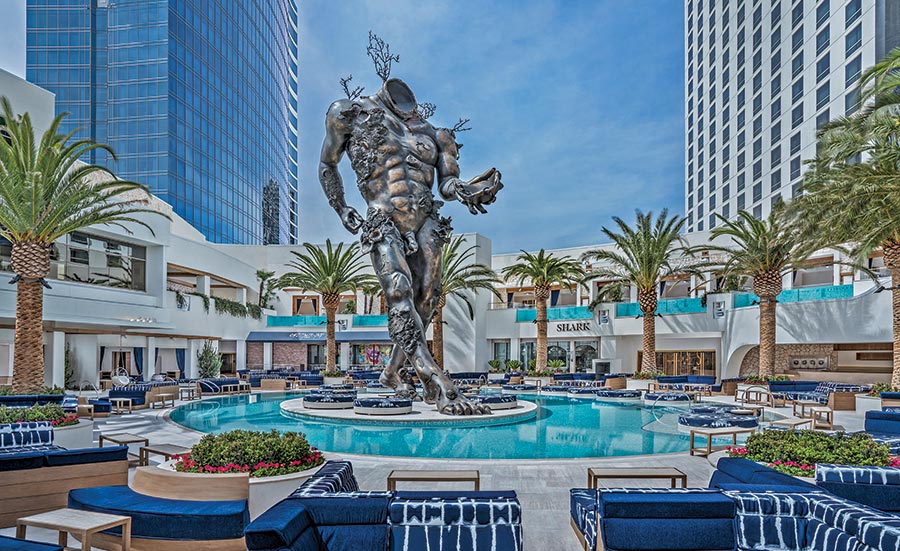 Created by world-famous chef Andre Rochat in collaboration with celebrity chef Marcos Purdy. It is located at the top of The Palms casino on the 56th floor, thanks to its location away from the Strip it gives it one of the best views of the city's skyline. 
The Michelin-starred restaurant is not only famous for its ever-changing menu but also has a vast selection of award-winning wines and the largest cognac collection in Las Vegas.
You can reserve a table on the terrace, where you will enjoy a romantic evening and unforgettable.
The average price of $ 140 per person.
Where to stay in Vegas with the Kids?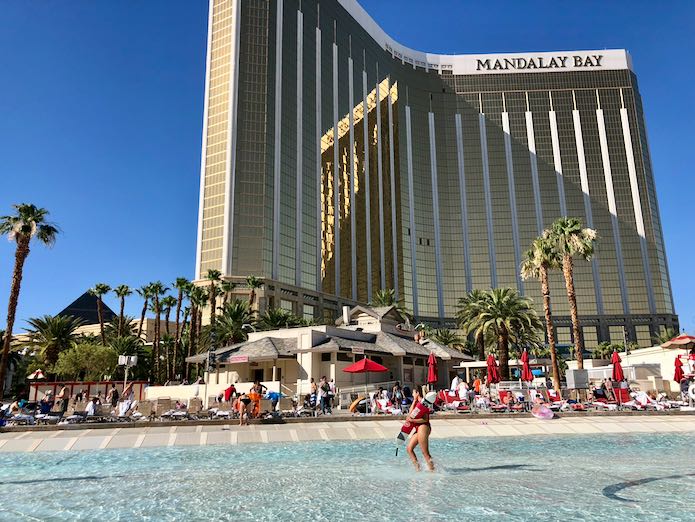 Anyone going to Las Vegas with family asks themselves this question: Which hotel to choose?
Faced with a large number of hotels, each more incredible than the next, the choice is not obvious. We told ourselves that this subject could be interesting.
Determining which the best hotel in Las Vegas is for kids is not easy, as several criteria come into play and some are subjective.
The Cosmopolitan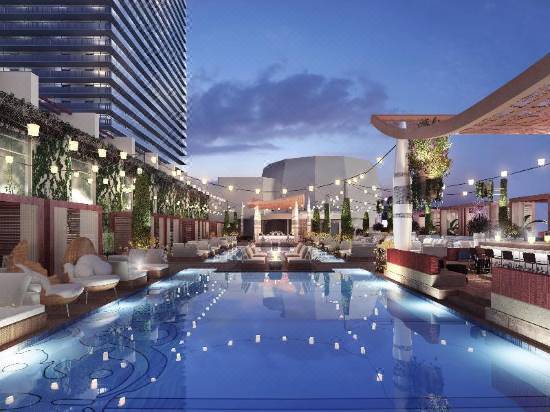 This hotel has the advantage of being very recent (inaugurated in 2010), with a central location on the strip. It is one of the only hotels in Las Vegas to offer a balcony for every room. Its "buffet" has an excellent reputation.
The Caesars Palace
Mythical hotel in Las Vegas, through the films that were shot there. The architecture of Roman inspiration is breathtaking. One of the best casinos in Las Vegas, the boutiques at the Forum Shops and concerts at the Colosseum make it a must-see in Las Vegas.
The Wynn and Encore Complex
The word "luxury" often comes up when we talk about this hotel complex. The Encore tower is the most recent of the complex, and the most luxurious, it was inaugurated in December 2008. Another special feature is the Wynn Golf and Country club.
10 fun things to do in Las Vegas with kids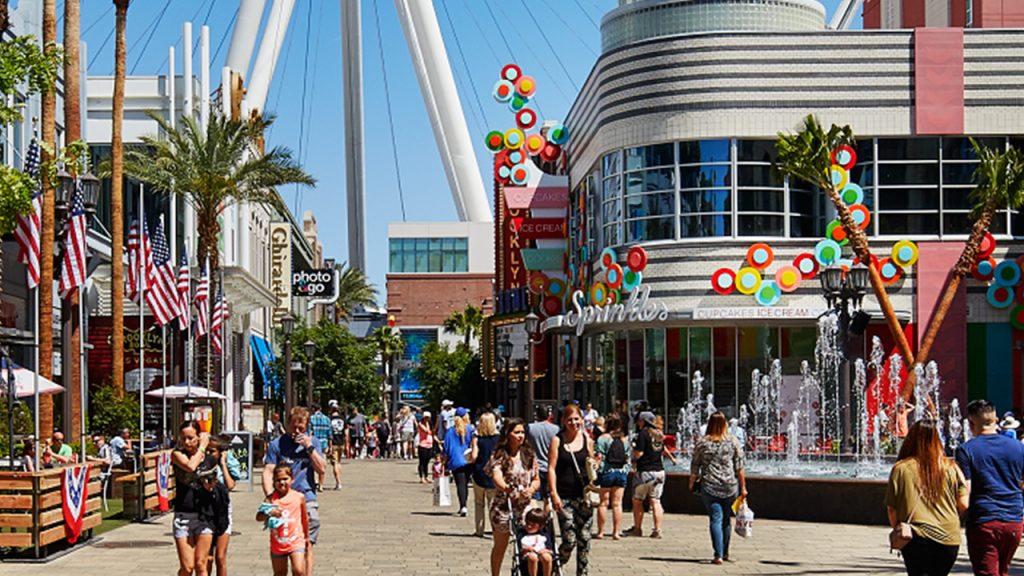 Discover the 10 funniest things to do in Las Vegas with kids, along with your parents, an itinerary full of adrenaline and lots of fun.
1. Thrill Rides, adrenaline without limits
Why visit it? There, right at the top of The STRAT Hotel, Casino & SkyPod, are some of the fun-filled attractions in Las Vegas and we can enjoy them, as long as we like emotions full of adrenalin.
Who are these attractions for? These attractions, only for the brave, can be experienced by all children who measure more than 1.20 meters, regardless of our age, yes, we must be accompanied by an adult.
Big Shot. It is the classic tower, which first climbs you at full speed and then without warning, you drop practically 330 meters high.
Without a doubt, this fall makes you feel a big hole in your stomach. The challenge is to do it with your eyes open and to enjoy an incredible postcard of Las Vegas.
Price: living this adrenaline-filled adventure costs $ 29 and includes entry to the tower and the Big Shot.
Insanity the Ride. This huge mechanical arm extends over 260 meters high and begins to rotate without stopping. The experience is only for children who like very, very strong emotions.
Also, the view is really impressive, the bad thing is that, surely, you will only keep your eyes open for a few seconds.
Price: Letting yourself shake in the air will cost you $ 29 regardless of age.
X-Scream. It is perhaps the creepiest, but fun. It is a roller coaster that seems to send you at full speed eight meters from the tower and then you will hang, a few seconds, over the Las Vegas Strip. This action is repeated several times, so do not exhaust all the screams.
Price: feeling butterflies in the stomach and even a little terror costs 29 dollars.
We advise you to buy a package that includes both the entrance to the tower and the three attractions for only 35 dollars.
Hands down, the top of The STRAT Hotel, Casino & SkyPod boasts some of the most exciting things to do in Las Vegas with kids.
2. Las Vegas Mini Grand Prix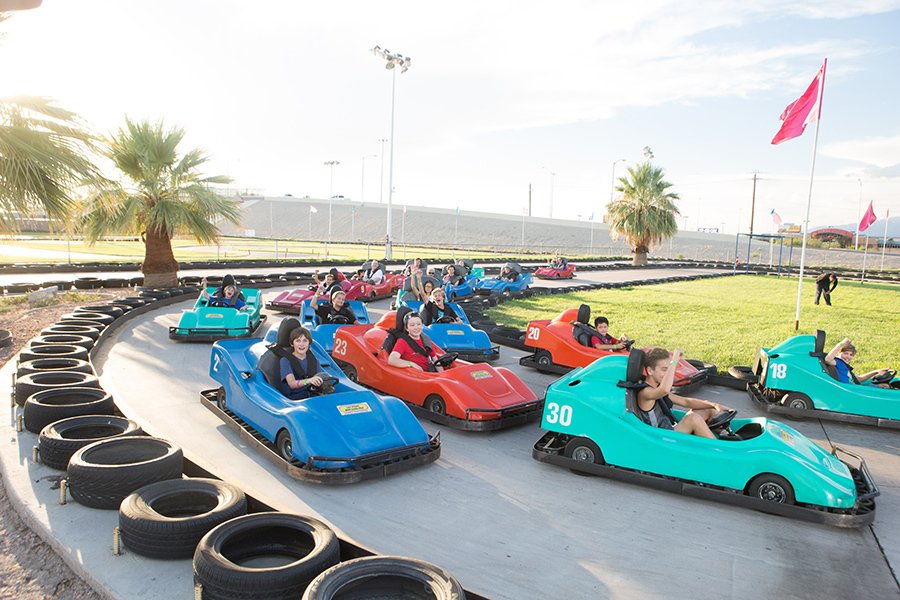 Why visit it? This three-acre amusement park is a speed paradise for young and old alike. It has 4 racing tracks of different levels.
Who is the Las Vegas Mini Gran Prix for?  For the whole family regardless of age. The little ones will find fun at  Kiddie Karts. There, children who measure more than one meter and less than 1.30 meters can drive their own GoKart.
The taller kids will be able to race the Sprint Kart Speedway track and if they love speed up to compete with their new friends or siblings. The GoKarts are individual, so you will have all the power of fun. Dare to go around the track squealing your tires.
Those over 14 can drive on the Go Kart Track with plenty of twists and turns that put your racing skills to the test. Do not be discouraged if you are minor, because you have the option of getting on, as a co-pilot, with your brother, friend or with your parents.
For its variety of tracks and the opportunity to drive our GoKart, Las Vegas Mini Grand Prix is one of the most fun things to do in Las Vegas with children.
The bad thing is that we can only drive 5 minutes in a row, of course, we can do hundreds of laps if our parents' pocket allows it.
Price. Each trip costs $ 8.95. If you buy more than 5 tickets, you will save 45 cents on each ticket.
After driving, go for a ride on the roller coaster or slide almost 100 feet on its giant slide. Before leaving, escape to their game room.
3. The Big Apple Coaster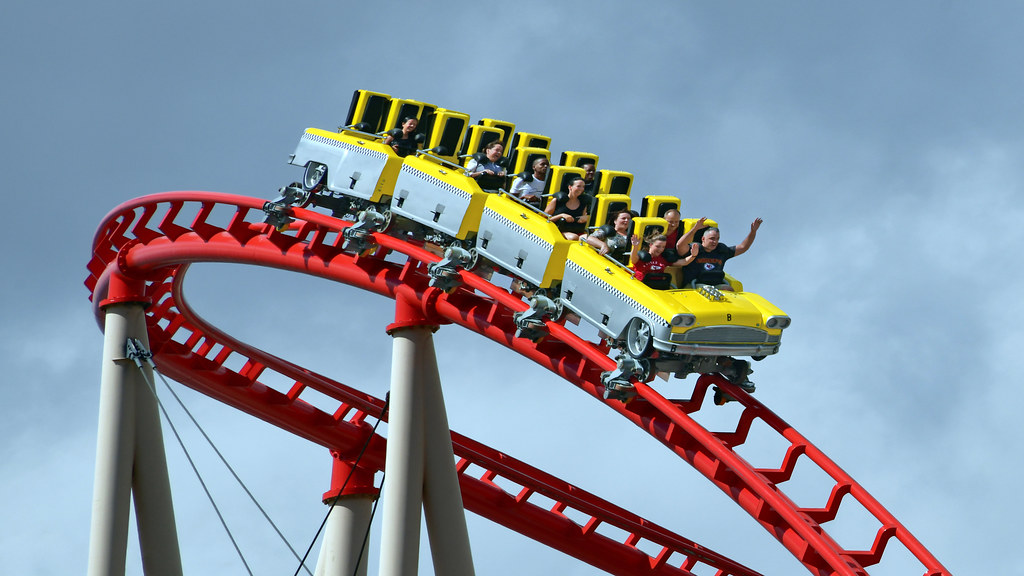 Why visit it? This is the big apple roller coaster, located at the New York-New York hotel, will make you scream with excitement with its high-speed falls and 180-degree turns. 
In the heights, you will pass between incredible New York skyscrapers and very close to the Statue of Liberty, well a beautiful replica of New York City.
For whom it is? For brave families and children who measure more than 1.30 meters. Only those over 13 years old can experience this adventure with virtual reality glasses and while they go up and down at full speed on this roller coaster they can be part of an alien battle.
Price: admission to The Big Apple Coaster alone costs $ 17 and with the virtual reality experience $ 20.
Due to its views of the city, as well as the adrenaline it provokes, it is one of the most fun attractions to do in Las Vegas with children.
4. Shark Reef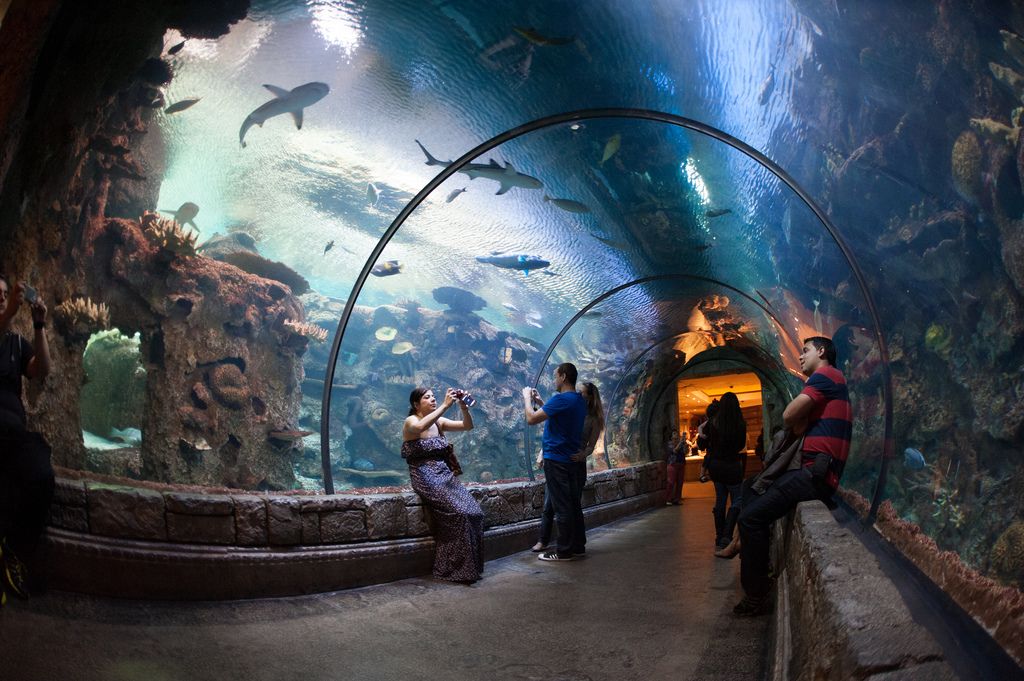 Why visit it? This shark reef aquarium, located in the Mandalay Bay hotel, you can see sawfish, giant rays, endangered sea turtles, piranhas, jellyfish and even a golden crocodile. And of course, more than 100 sharks of 15 species.
For whom it is?  For the whole family and for lovers of marine life, since in its more than six million liters of water, there are around 2,000 animals divided into 14 exhibits.
Shark Reef safety pins
Cross the tunnel with acrylic walls, you will feel that they swim in the middle of all those marine animals.
Diving in the middle of sharks, although this activity cannot be done by us, even when we grow up we are encouraged.
Price: admission for children is 18 dollars and for our parents, it is 22 dollars.
5. Adventure Dome, a park in Las Vegas for children and not so children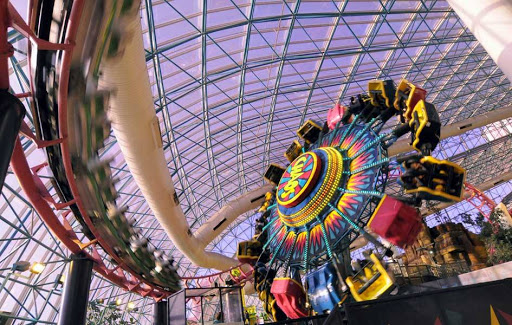 Why visit it?  It is considered one of the most spectacular indoor amusement parks in the United States. This park, located inside the  Circus Circus Hotel , has more than 25 attractions, including roller coasters, bumper cars, arcade games, theater with 4D experience, a runaway pirate ship and lots and lots of fun for all ages.
For whom it is? In fact, AdventureDome is ideal for families with members of almost all ages.
Price: Admission is $ 19.95 for children and $ 39.95 for adults.
6. Fly Linq Zipline, a must-see in Las Vegas for kids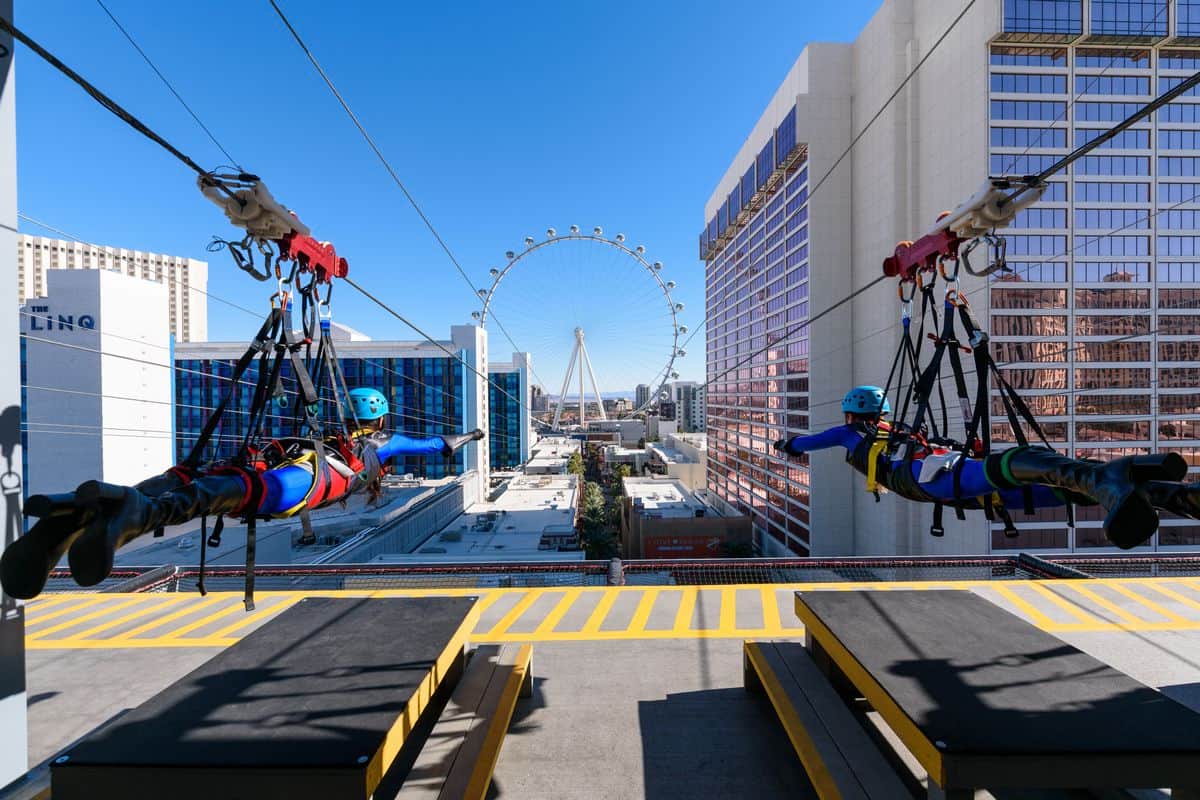 Why visit it? It is the only zip line that crosses, from the air and at full speed, the Strip. So Fly Linq Zipline, gives you the opportunity to admire Las Vegas from the heights.
You have the option of throwing yourself seated, like a superhero and the bravest can throw themselves backward. In addition, you can do it day or night.
And it is that this zip line, which is part of the attractions of The Linq hotel, is available from 10 in the morning until midnight.
Who is Fly Linq Zipline for? It is important to mention that to get on this zip line you must weigh more than 27 kilos and less than 136 kilos. In addition, you must measure more than 80 centimeters and less than 1.72.
Price: This fun attraction costs $ 28.
7. High Roller, one of the attractions to do in Las Vegas with children
Why visit it? At 167 meters high, the High Roller is the largest Ferris wheel in the world. This imposing attraction, located in The Linq complex, has 28 cabins each with a capacity for 40 people.
For its 360-degree panoramic views of the Las Vegas Valley and The Strip, it is considered one of the best things to do in Las Vegas with children. And how to doubt it, if from the heights you will be amazed by the Wynn and Encore towers, while the brilliance of the Palazzo and the Venetian will dazzle you.
Who is a High Roller for? For the whole family, since it does not matter the age or height.
If you want to take this souvenir home with you, tell your parents to stop by the Total Snapshot kiosk and buy your photo on board the High Roller.
Price: admission for children on the day is $ 7.50 and $ 20.50 for adults. At night, prices range from $ 16.50 to $ 32.75 .
8. Kiss by Monster Mini Golf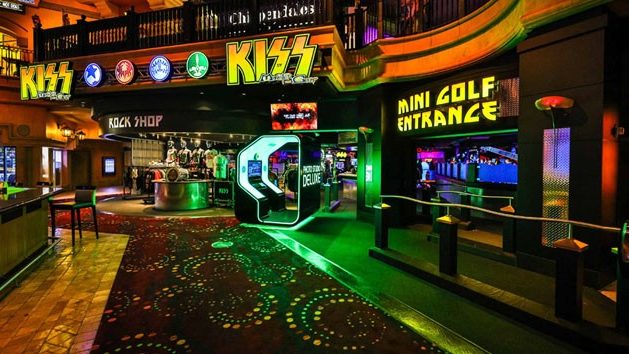 Why visit it? It is the only Kiss-themed attraction in Las Vegas and the world. This 18-hole mini golf course is in the dark and it is its neon flashes that guide us.
While you are having fun playing golf or trying to play, you will listen to the greatest hits of Kiss and you will be able to see videos, clothes and even touch the props of this famous group, which you probably know from your parents.
Who is this attraction for? It is recommended for families traveling with children over 8 years old, because for the little ones it can be boring and even a little scary, but for teenagers, it will be a great experience.
More attractive
Arcade games

Special event room

Colossal size Kiss and rock 'n roll gift shop

Rock 'n roll wedding chapel
9. Shows in Las Vegas for children and adults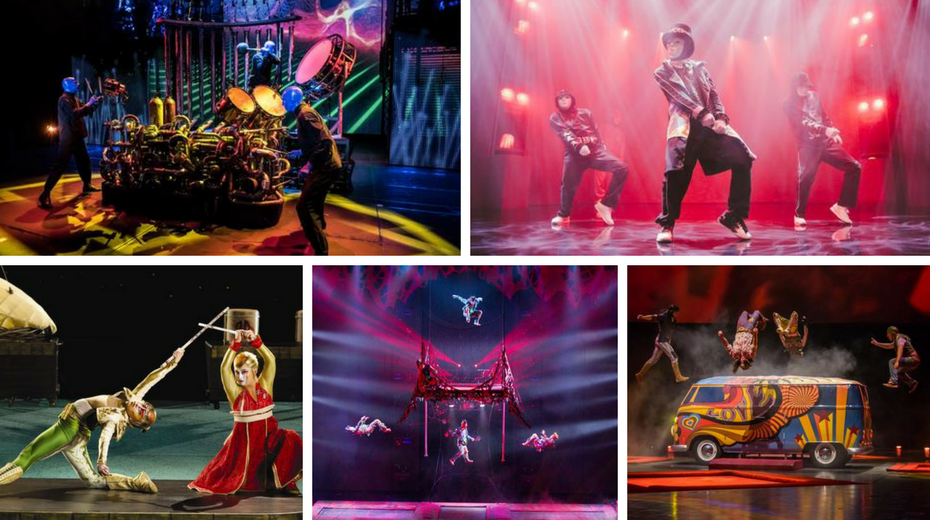 Why include them? Las Vegas is also characterized by its incredible shows for the whole family. Options range from circus shows to epic medieval battles, not forgetting those characterized by surprising special effects.
The Cirque du Soleil has several shows in Las Vegas and any show you choose will make you live a unique experience.
Jabbawockeez is another of the shows that you will love for its music and effects and Blue Man Group, in addition to surprise you with their music and effects, will make you laugh out loud.
Price: Tickets for these shows cost between $ 60 to $ 150.
10. Pinball Hall of Fame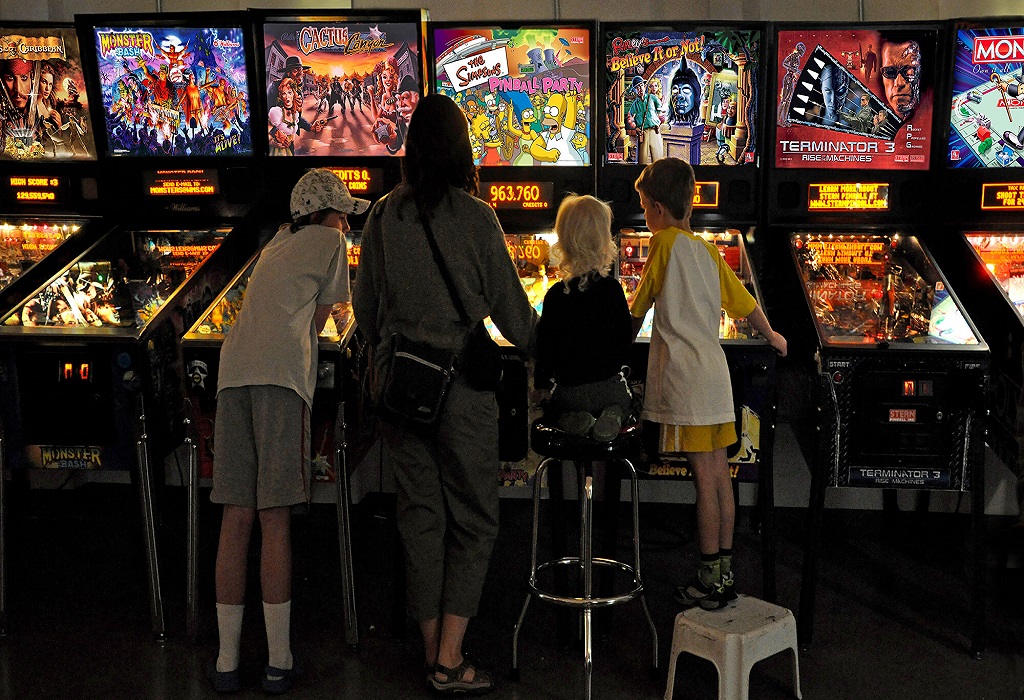 Why visit it? This place houses the largest pinball collection in the world. There you can see pinball machines from the 50s to the 90s.
Who is ideal for? This space is something like a casino for children and for pinball lovers. In the Pinball Hall of Fame, everything, absolutely everything is a pinball and a couple of arcade games, but those very old ones.
Price: in older pinballs, you will only have to put in 25 cents per game, while in the 90's models the game costs 50 cents.
Now that you have a slight idea about what you can find during your trip to Las Vegas with children, don't you feel like going to visit it with your family and conspire about what could improve the quality of family time?
These are some attractions and things to do in Las Vegas with children, it's time to discover the best areas by yourself.
Frequently Asked Questions
What can kids do for free in Las Vegas?
During a family visit to Las Vegas, there are plenty of things to do with kids and families should engage in these activities, shows, and attractions without spending a fortune. Some of families like favorite free things to do while in town include Mini Grand Prix, The Big Apple Coaster, shark reef aquarium, Adventure Dome, Fly Linq Zipline, High Roller, one of the attractions, Kiss by Monster Mini Golf, Shows in Las Vegas for children and adults and the Silverton Hotel Aquarium. See our full list of Family Friendly Things To Do in Las Vegas with Kids.
What is there to do for teenagers in Las Vegas?
Teenagers and their families will have tons to do and see while in town. Las Vegas has plenty of mild to wild activities and entertainment for teenagers, depending on their age. Activities for your older teenagers that are looking for some real adventures include indoor skydiving, dune buggies, ziplines, go kart racing, roller coasters, escape rooms and more. Teens off all ages can enjoy the family friendly shows, iconic Vegas sites, arcades, aquariums and animals, outdoor activities like hiking the Valley of Fire State Park, scenic views over the Las Vegas Strip and much more. See above full list of Things To Do with Kids in Las Vegas.
Is Las Vegas OK for families?
Although the city caters to adults mainly, Las Vegas still has plenty to offer families travelling with children. The family-friendly itinerary you create with some planning will have the kids and adults having a great time in Vegas. The family activities are amazing and unique, the shows are spectacular, the landmarks and sites are amazing, the restaurants are fantastic, and the pools are stunning.