If you were coming to Vegas so you can experience a wild night out, you won't be disappointed. The nightclubs here are everything they're cracked up to be and more!
You don't go to Las Vegas for a good night's sleep; you are going to have the time of your life. We're going to let you in on a little secret of Sin City nightlife.
It can mean anything from access to the VIP guest list to discounted bottle service, so your bachelor or bachelorette party can see the hottest DJ at the last minute.
Las Vegas is a city with a lively nightlife and a lot of atmosphere, and to be able to enjoy its nightlife to the fullest to go to the best nightclubs in Las Vegas 2021. Those capable of shaking the skeleton of those who are more shy and introverts.
DO You Want To Travel Like A King
Allow your VIPs to enjoy their business trips to Belize, Las Vegas, and Goa in style with Aristo VIP & Executive Travel services.
With Aristo VIP concierge services for travel, get ready for boutique hotels, private chauffeurs, and a seamless itinerary that spells out every detail of your trip.
Going to Vegas without enjoying its nightlife would be like going to Arizona without visiting the Grand Canyon! It is simply inconceivable! Whether you are with friends or as a couple, take advantage of your nights to discover the Strip in a different light.
The atmosphere that reigns in Las Vegas late at night is unsurpassed. There is no doubt that if nightclubs are your thing, in Las Vegas you will have no problem finding establishments that offer you the music and fun you are looking for.
It is evident that with the great diversity of alternatives to choose from in the place, doubts may arise about which are the best nightclubs in Las Vegas to go to.
There are resorts with their own nightclubs that love to receive special treatment for their internal guests.  Do you want to know another advantage of choosing a resort with a nightclub?
By the end of the night, when everyone is standing (or barely standing) in a taxi line back to their hotel, you'll already be in your room ordering from the room service menu.
All night owls might have these questions in mind:
How much does it cost to get into a club in Vegas?
Do you get free drinks while gambling in Vegas?
Can you wear jeans to Vegas nightclubs?
Find below the answers with our exclusive selection of the best nightclubs in Las Vegas, the party capital of the world. Here, you will find a complete list with the places that you should not miss. Take note!
Top 10 best Nightclubs in Las Vegas
The most popular nightclubs in Las Vegas are found in the big hotels on The Strip. First of all, it is important to note that in order to enter the nightclubs in Las Vegas it is important to be at least 21 years old.
In addition, men must necessarily wear shoes and a shirt, while women must also be dressed to enter the different establishments, although women are not usually too demanding with their clothing.
After knowing these little details, let's get down to business and find out which are the best nightclubs in Las Vegas that you shouldn't miss:
1. Marquee Las Vegas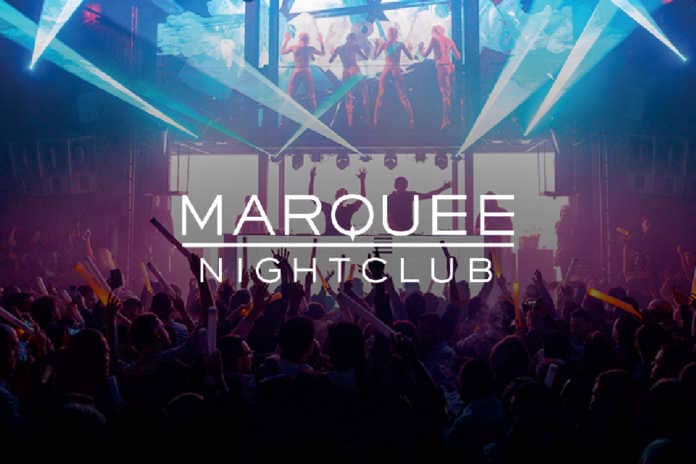 Marquee is one of the most famous nightclub that you can find in the American city, and it is not surprising, since it has everything you are looking for to enjoy maximum fun during your stay in the city.
Le Marquee is a very trendy nightclub located within the 5-star hotel Le Cosmopolitan.
This unmissable place with multiple dance floors has a large outdoor dance floor with a breathtaking view. Inside, the dance floors are huge with new generation equipment and giant screens several floors high!
If this club is known as one of the best in Las Vegas, it is also probably because it is one of the strictest in terms of dress code. Dress smart and do not show up to more than 3 men alone at the entrance otherwise, you will be turned away by the bouncer.
Thanks to the Dayclub, you can also party during the day. In terms of sound, the DJs behind the decks mostly mix electronic music and hip hop at the Marquee.
A large dance space, loud music and countless drinks and cocktails that will allow you to enjoy a night full of entertainment and animation. Inside you will also find a private and intimate nightclub known as Boombox.
2. TAO Las Vegas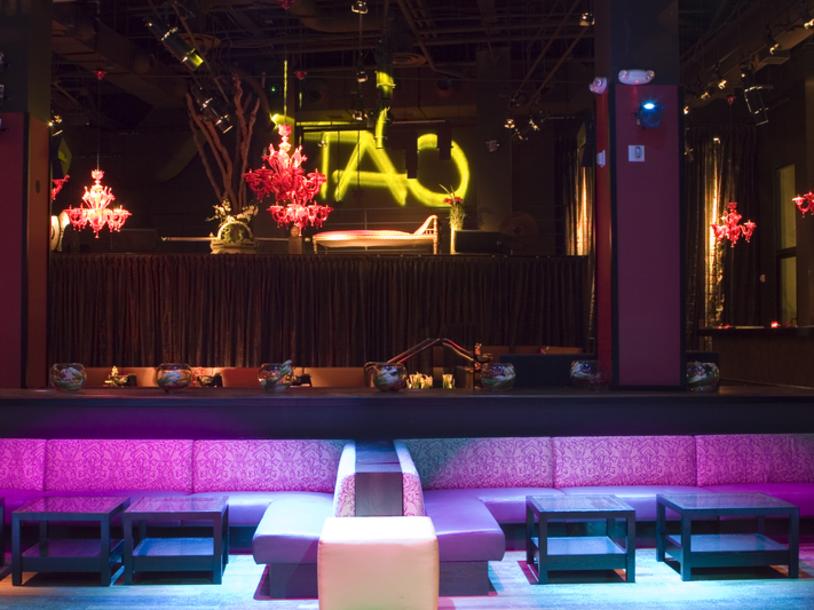 The TAO nightclub is one of the popular nightclub in Las Vegas that you can find in the city. In addition to its fabulous and complete nightclub, this place has restaurants, a lounge, a beach and much more.
Opened in 2005, the Tao is one of the oldest clubs in Las Vegas. Trendy restaurants, bars, and nightclubs, the Tao is frequented by celebrities from all over the world. We find the same concept in New York City.
Scantily clad models wiggle their hips in tubs covered with rose petals. All the decor of the club is around Asia. The Tao is located in the Venetian Hotel.
It is a perfect place to go on the weekend thanks to the atmosphere that prevails in the place, but if you get tired of dancing you can always go to the room where you can enjoy the best chill out music to relax.
3. XS Wynn Nightclub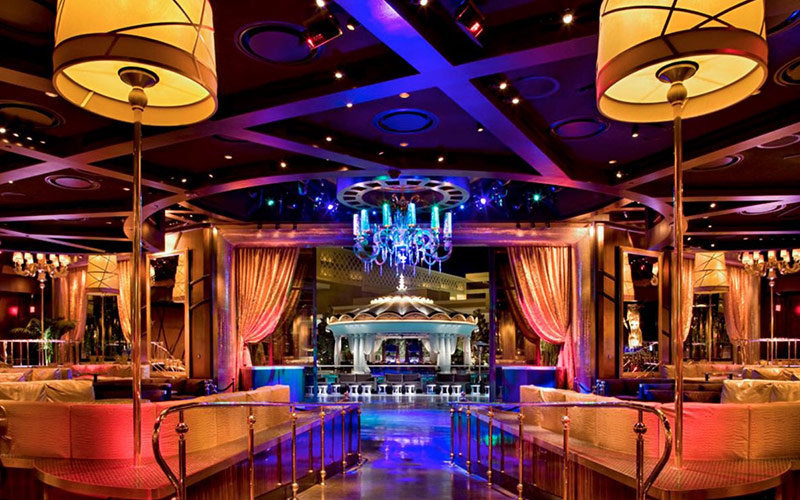 XS Wynn is one of the clubs in which the most money has been invested for its construction. Located in the Wynn Las Vegas, this nightclub has a huge dance floor.
In addition, it also has an outdoor outdoor area with a pool where you can enjoy relaxing moments under the stars and taste a delicious cocktail.
In this disco you will enjoy the music of some of the best DJs in the world.
4. Light nightclub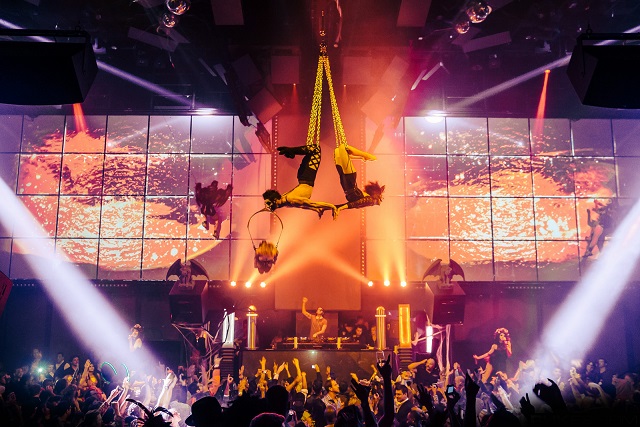 Light Nightclub is much more than a simple disco, Light Nightclub is pure spectacle, since all those attendees who choose to visit this disco will be able to enjoy the many shows offered by Cirque du Soleil.
Can you imagine being able to contemplate acrobats above your head doing amazing tricks and stunts? In this unique disco it is possible.
As if all this were not enough, you can also have some of the best DJs in the world.
5. Omnia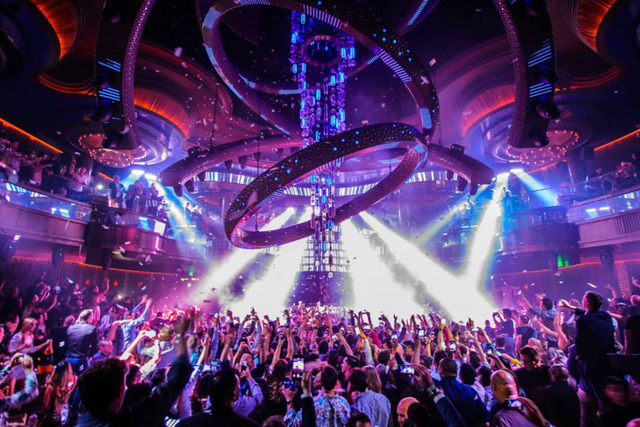 To truly experience the Vegas nightlife and enjoy world-famous DJs, head to the Omnia nightclub. The Caesars Palace nightclub, Omnia has several floors that surround the main room of the ultra-lounge, all over 7,000 m²! The very modern lighting system transforms the atmosphere of the room throughout the evening thanks to superb lighting effects. You will be able to admire this during crazy evenings.
A rooftop garden offers panoramic views of the Strip. Managed by Hakassan Group, the large hall replaced the former Pure club in 2015.
In the main room of this place, its ceiling will not leave you indifferent, which is formed by several concentric circles that make an infinite number of movements (up, down, rotate). A great novelty.
6. Hyde bellagio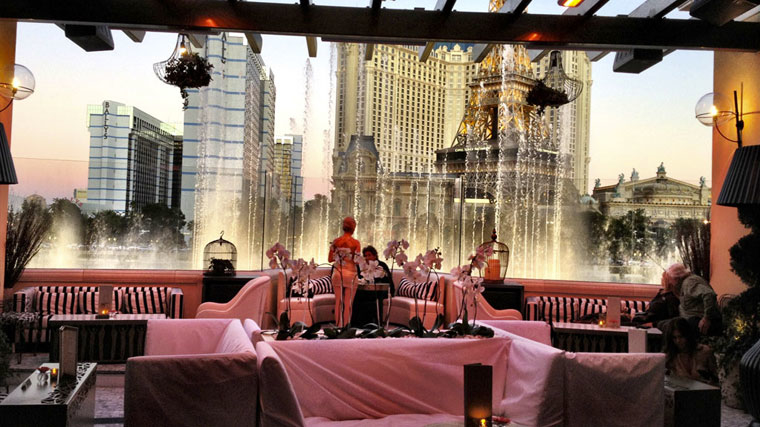 Another of the best nightclubs in Las Vegas is Hyde Bellagio. If the place stands out for something, it is because of the many fountains that are in the place.
Its disco is pure elegance and style, but without neglecting an interesting touch with small informal details. One of the most attractive points of this nightclub is the extensive and assorted cocktail menu that Hyde Bellagio is able to offer to its visitors.
The only downside to being able to enter this place is the long queue that is always waiting, but it is worth it.
7. Hakkasan at MGM Grand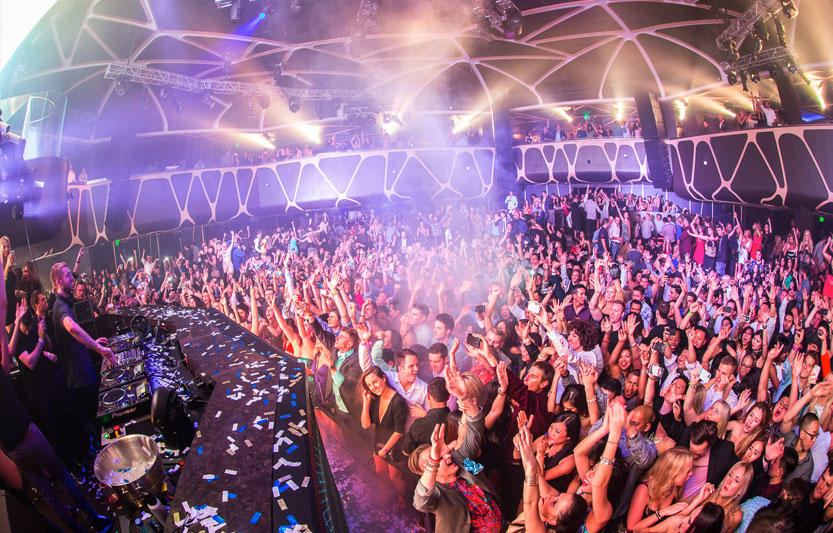 Opened in 2013 on the 4th floor of the MGM Grand Hakkasan has since received numerous awards.
Having become a benchmark for clubbers in the city, the nightclub is part of the Hakkasan restaurant group. The place has several floors, between the nightclub, the lounge lounges (Ling Ling Lounge & Ling Ling Club) and the restaurant making Hakkasan a mythical place!
This multi-space nightclub offers a large selection of electronic dance music and renowned DJs to suit everyone's tastes.
This establishment perfectly combines a disco and restaurant with a luxurious lounge, allowing its attendees to enjoy the most delicious drinks and dinners with truly exclusive dishes.
Those who wish to enjoy the best music, a lively and fun atmosphere and the best DJs in the world, this place is presented as a safe bet that you should not overlook.
8. Drai's Beachclub & Nightclub at Cromwell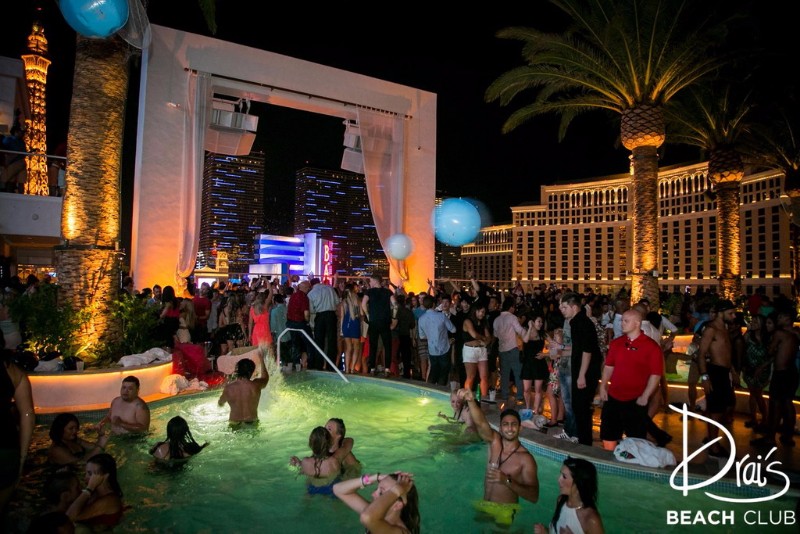 Unlike other resorts that close their pools after dark, Cromwell's Drai's Beachclub & Nightclub keeps the hip-hop party going until the wee hours of the morning at its multi-level rooftop pool and its nightclubs.
It offers two full-service bars, over 75 bottle service tables, dance sticks, and swimming pools. Dancers in elaborate costumes and spellbinding light shows bring out the nighttime ambiance.
Hot pink accents, palm trees, and uninterrupted panoramic views create unforgettable photos, especially if you can catch Ciara or Tyga in the frame.
9. Chateau Rooftop – Paris Las Vegas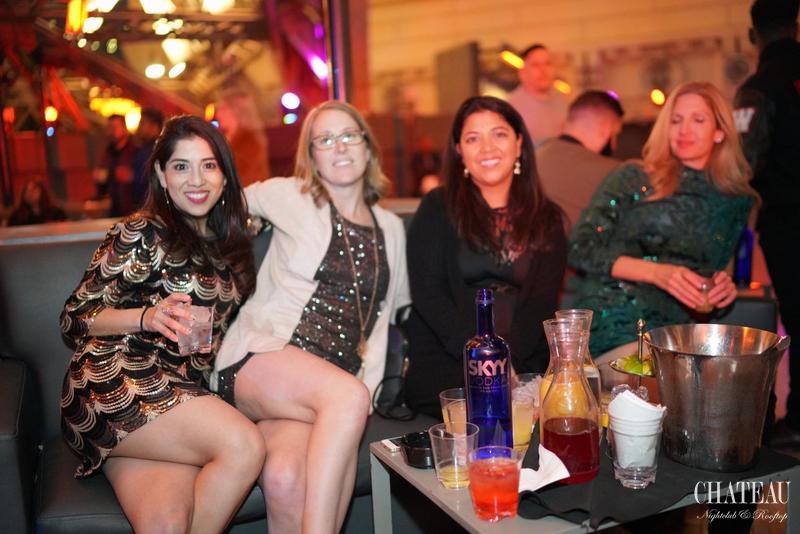 The Château is located at the level of the Paris Las Vegas hotel under the replica of the Eiffel Tower. Like the rest of the hotel, the decor of this nightclub is decidedly Francophile. From the rooftop, you can enjoy a nice view of the Bellagio fountains, located just opposite.
Inside, a large dance floor with dim lights makes this place magical. The Chateau is one of the go-to places if you want to listen to hip hop.
10. Surrender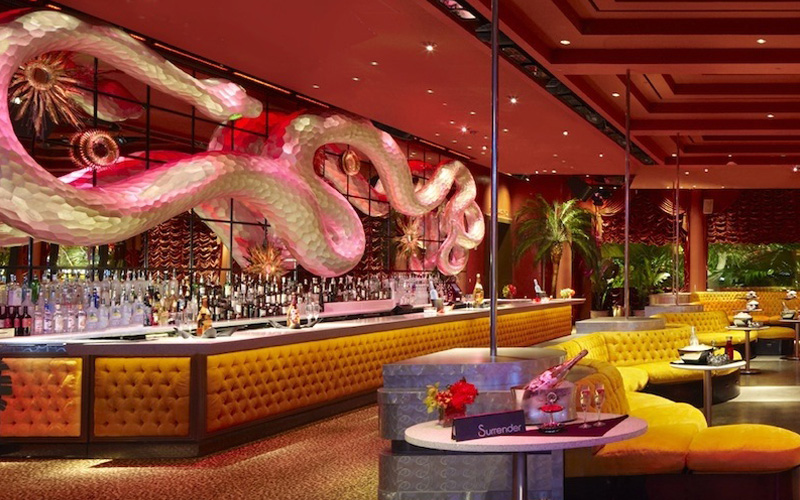 The Surrender is among the best clubs in Las Vegas. Luxurious style, warm atmosphere, colorful cocktails, this nightclub is located in the very select Encore resort.
A huge snake decorates the bar. All world-famous electro DJs regularly pass through the Surrender. It is right next to the Encore Beach Club with its large swimming pool.
Prices are also higher here than in the rest of the Strip: around 25 to 35 $ for women and 45 to 70 $ for men depending on the prestige of the evenings.
 Do you get free drinks while gambling in Vegas?
Night clubs often distribute what are called VIP coupons at the casino during the day. These coupons give discounts on the admission price for boys and free admission for girls.
They are valid until midnight. If you see someone on the Strip holding such coupons, grab a few that interest you, but expect them to ask you for a tip or a few dollars.
Can you wear jeans to Vegas nightclubs?
Men should wear a polo shirt or shirt, long pants without holes, and dress shoes. Preferably dark shoes without white edges, no tennis shoes. Nightclubs do not really have a specific code for girls, the latter usually wear dresses.
Girls are allowed to wear flip flops if they are of good appearance. The more beautiful and popular the club, the stricter the dress code.
When should you go to nightclubs?
It depends a lot on where you want to go and the day of the week. Clubs open at 10 p.m. If you are not on the guest list or don't want a VIP table, we recommend being at the club around 10-10:30 p.m. If it's a Saturday night and the city is packed with people, there may be a line up even before the club opens. When the nightclubs start to fill up, it is easier for the girls to come home.
While the nightlife in Las Vegas is exceptional, there are usually dress code restrictions. To avoid possible problems, men should adhere to a basic rule: wear shoes and a shirt.
Women generally have no problem walking into nightclubs and they can dress however they want, which doesn't take away from the fact that most American women are surprisingly dressed for the occasion.
You should also remember that in Las Vegas, you have to be 21 to be able to drink or go to a nightclub .
That Las Vegas has a vibrant nightlife doesn't surprise anyone. In addition to casinos and shows, you will find around 100 bars, pubs and nightclubs.
The guest list
It is a great idea to put yourself and your group on the guest list if you know which nightclub you want to go to. Sometimes the entrance fee can be cheaper and maybe even free.
The biggest advantage is that you don't have to stay in the general admissions queue. Call the nightclub to be added to the guest list. Groups with at least as many girls as boys almost never have a problem. Larger groups with only boys can be a problem at some clubs.
Try breaking up into several groups of two or three and see if that works. Many nightclubs have representatives at the casino level during the day and especially on the weekends.
VIP tables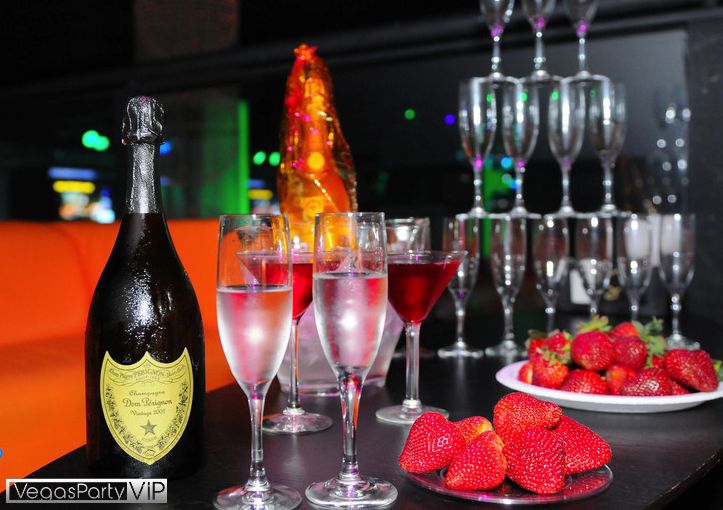 If you want to totally skip the lines and be treated like a VIP, grab a VIP table. To get one, you need to purchase at least one bottle of liquor that costs around $ 450- $ 500 plus tax and tip.
Taxes and tips are usually already included in the invoice when you receive it.
Nightclub prices and How to get in for free
The cost to enter any Las Vegas establishment (cover charge) usually ranges from $ 20 to $ 40 for boys and $ 10 to $ 20 for girls. To enter Las Vegas pubs and nightclubs for free, there are several options:
Join VIP Lists: Whether you're walking the streets in Las Vegas or researching the internet, you'll find dozens of PR agencies working with club guest lists. Surprisingly, it works. Here is an example with this website.
Getting Tickets: The easiest way to get VIP passes is to stop at the hotel where the venue is located during the day. The Luxurious Casinos In Las Vegas usually have public relations and some establishments have an all day booth. Don't hesitate to ask for discounts or better yet, guest lists.
Buy Tickets: As you walk along the Strip, you'll have no problem finding (or being found) a person who offers passes to all of the boxes in exchange for a tip.
If you are staying at the hotel where the nightclub you want to go is located, it is best to go to reception and ask if they can put you on the guest list. Normally there is no problem.
Please note that in most establishments, VIP passes and guest lists are only valid until midnight.
If you like crazy parties with bottles, dancing, luxury and excess, then fly to Las Vegas, the go-to tourist destination to party! Do not forget to take note of these clubs, do not forget to write down which are the best clubs in Las Vegas.
You will discover the legendary nightlife of Vegas clubbers and enjoy the excitement of the famous nightclubs that line the Strip, the most beautiful avenue in the city! You will be able to go out to a nightclub for a drink and listen to music that you cannot hear elsewhere.
During your stay in the place you do not have to overlook enjoying one or more of these establishments. You will have a great time!
What is the most popular club in Las Vegas?
The most popular clubs in Las Vegas are Omnia, Hakkasan, XS, Drai's and Marquee, TAO Las Vegas and XS Wynn Nightclub. These clubs are the hottest in Vegas right now simply because they fall under the "mega-club" category and have top DJs and performers each night they are open.
How much are Las Vegas nightclubs?
Most nightclubs charge an entrance charge between $20 – $100 per person for men and $10 – $30 for women. There can be price variations depending on the night of the week, DJ, or if it is a holiday weekend like Memorial Day, 4th of July, Labor Day, New Years Eve, etc.
How do you get into nightclubs in Vegas?
The easiest way to get into a nightclub in Las Vegas is by connecting with a club promoter or VIP host. Clubs hire promoters to fill their guest list, ideally with women, and VIP hosts to assist you in making reservation for bottle service. VIP Nightclub Promoters in Vegas offers can be found by visiting our contact page.
How can I get into Las Vegas nightclubs for free?
There are guest lists at all Vegas clubs. The rules differ for each club and each night of the week. It is common for girls to always get in for free, and males to pay unless they are accompanied by the same number of girls. Make sure you read our guide on Las Vegas guest lists.